Choosing a guitar depends on you - your hand size, the sound you want, your music taste, not to mention your budget. It should inspire you.
Not sure if you should get acoustic or electric?
Start with the sound you love! What's the point of buying an acoustic guitar just because someone says you should? If you love and want to play Metallica, go for an electric guitar. You simply won't be happy with an acoustic. But, if you love and want to play acoustic ballads like Ed Sheeran, get an acoustic guitar. It's your choice and should be based on the music you want to play.
Despite what some people say, an electric guitar can be played with lower volume (or even with headphones) so you won't have to deal with angry neighbors. An acoustic guitar on the other hand can be taken anywhere without much effort, or the need for amplification.

If you're still unsure or love both, think about where you see yourself playing.  Is it at home? The beach or park with friends? Or are you starting a band? And go from there.

Below are some of our expert insights on the acoustic guitar. But if you're ready to jump into the electric guitar, you can read about it here.
Considerations
Price range:
You don't need to break the bank but get the best guitar you can afford.
Remember - A cheap guitar will be cheap and cost you more in the long run. It could easily go out of tune or break.
Buying second-hand or got an old guitar already:
Get it checked out by a professional. It may not be the right guitar for you or may need some adjustments.
Additional Tips:
Go to a guitar store and try it out in person.
Make sure the guitar is in good condition and has been set up correctly before you bring it home. There should be no buzzing sounds when playing strings on any fret.
Get an acoustic guitar with a starter gear pack. It can help you get the basic gear to start your guitar journey.
What to avoid
If buying new:
Be careful with no-name brands from online resellers. They might be cheaply made and cost you more issues in the long run.
Buying something for the "cool" factor.
Custom body shapes are awesome to look at but can make it complicated for beginners. If you've got your eye on an unusual setup, try it out before buying so you don't get discouraged later on.
Suggested Brands and Guitars
There are many styles of guitars and they have evolved for each genre. Here are our top picks.
If you're still just finding out if the guitar is your thing, a nice versatile model we recommend to beginners is the Harley Benton Custom Line CLD-1048SCE NS.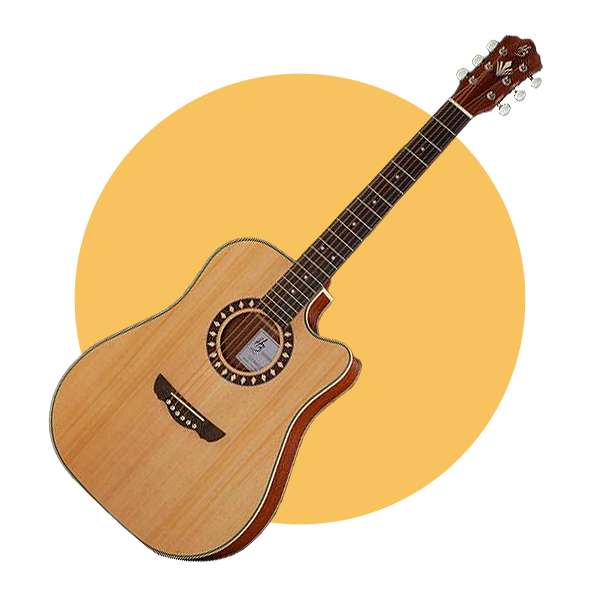 It is:
Great for strumming but also melodies or solos.
Suitable for pop, rock, blues, country, and low budgets
Advanced Tip
If you know the sound you're looking for:
Nylon string guitars
Fretboard: Wider
Sound: mellow
Typical in: Classical or Latin music
Steel-string guitars
Fretboard: narrower like an electric guitar and fretting needs more force.
Sound: brighter
Typical in: Pop, rock, blues, folk, country
We hope that our tips will help you to find the perfect guitar for you!
Ask us anything
Stuck on a guitar problem? Let our teachers solve it for you. Simply send us an email at support@fretello.com and we'll answer your question in our upcoming Ask us Anything video.

Become a member of the Fretello family
Playing guitar isn't about unlocking any hidden talents. Anyone can become a proficient guitarist. With Fretello, you've got everything you need to learn guitar all in one app. Start your free trial and start:
Expressing yourself through music
Playing the songs you love
Mastering the basics and beyond
Making real, tangible progress