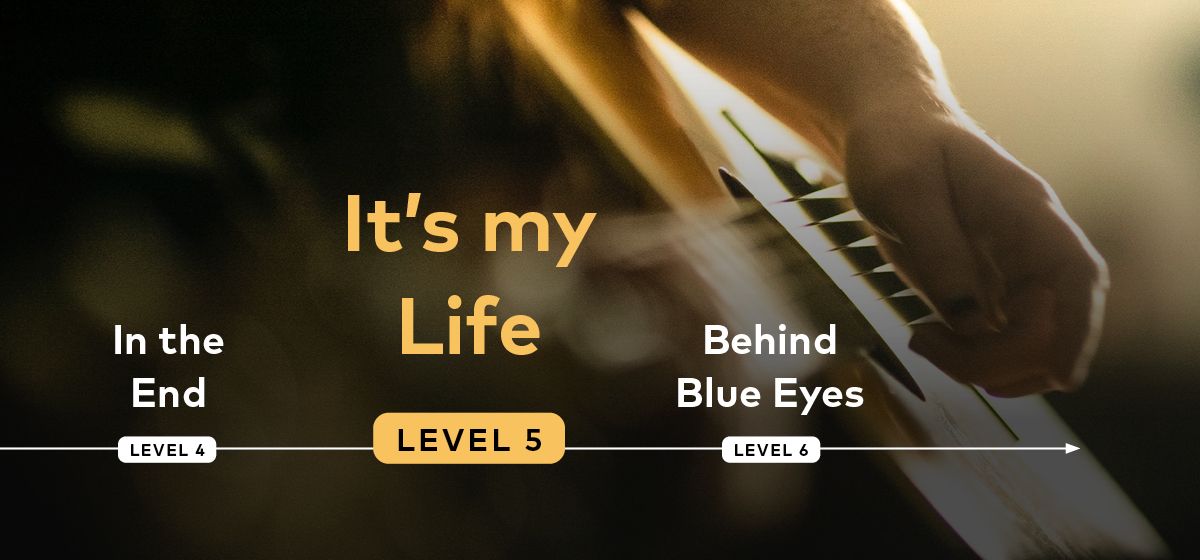 "I want to play that song in a month." Many beginners consistently misjudge the difficulty level of a song they'd like to play. No wonder! To set a realistic goal, you already need a basic understanding of music.
So, how can you still set realistic goals at the beginning of your guitar journey? These three tips might help you:
What's easy? Easier songs contain up to four simple chords (two- or three-finger chords) and are not too fast-paced. Some examples: "Perfect" by Ed Sheeran, "Something in the Way" by Nirvana, or "Zombie" by the Cranberries. You'll develop the skills needed to play parts of all those songs before reaching Level 5 on the Fretello Learn Path.

What's hard? Famous and catchy riffs as in "Seven Nation Army" or "Smoke on The Water" might seem easy because they sound so familiar. Good news: You'll be able to play their simplified versions already in your very first week with the guitar. However, if you want to play the original riffs, you can embellish them later with the eighth rests, dotted notes, and dead notes (yup, you'll learn all of it on your Fretello Learn Path).

How to start? Keep your favorite song as your big goal in mind but be flexible with the timeframe. You'll be able to better assess the skills and time needed as you progress down your Learn Path. So, trust the process and enjoy building your skills step by step. You'll be surprised how quickly you'll develop and gain confidence, and how many new ideas for rewarding goals you'll discover along the way.
Which songs are realistic?
If you want to set song-based goals, we've got a few ideas for you. We included the level of your Learn Path in which you'll learn the skills (chords, rhythm, or techniques) needed to play these songs:
Level 4: "In the End" (Linkin Park)
Level 6: "Behind Blue Eyes" (Limp Bizkit)
Level 7: "It's My Life" (Bon Jovi), "Zombie" (The Cranberries)
Level 10: "Numb" (Linkin Park), "T.N.T" (AC/DC)
Level 13: "Wonderwall" (Oasis)
Level 16: "Pretty Fly" (The Offspring), "Beat It" (Michael Jackson)
Level 17: "Knockin' On Heavens Door" (Guns'n'Roses)
Bonus tip:
Playing famous songs can be a big source of motivation, but nothing keeps people going as much as simply having fun! Fun, as in gaining skills to creatively express yourself through music. Or as in seeing the progress you make through repetition.

Whether you want to be productive and creative, or just unwind after a stressful day—your Learn Path offers you a nice balance between both options. Since we are all unique: Why don't you try to make your next playing session especially fun for yourself?

Ready for a session with your guitar? Pick up where you left off by clicking the button below.