Learning to play guitar isn't brain surgery. And with the Fretello Learn Path, we are giving you the best methodological approach to do so. Here's our promise: if you follow our program, and stick with us, you will learn to play guitar. There is no question about it. All you need is a guitar and a Fretello account to get started. That's it, no hocus-pocus.
The Fretello Learn Path
Our Learn Path is designed to offer a better structure to your learning. All the units that you will be doing are carefully selected and organized by professional guitar teachers to help you master the guitar seamlessly. Rather than constantly looking for lessons, exercises, or song tabs on the internet to ramp up your playing, you will be able to access everything in one single, methodological journey. This is because we will offer a variety of both Learn and Practice units; so you can learn new skills in our Learn units, and then apply all the knowledge in the Practice units to deepen your learning.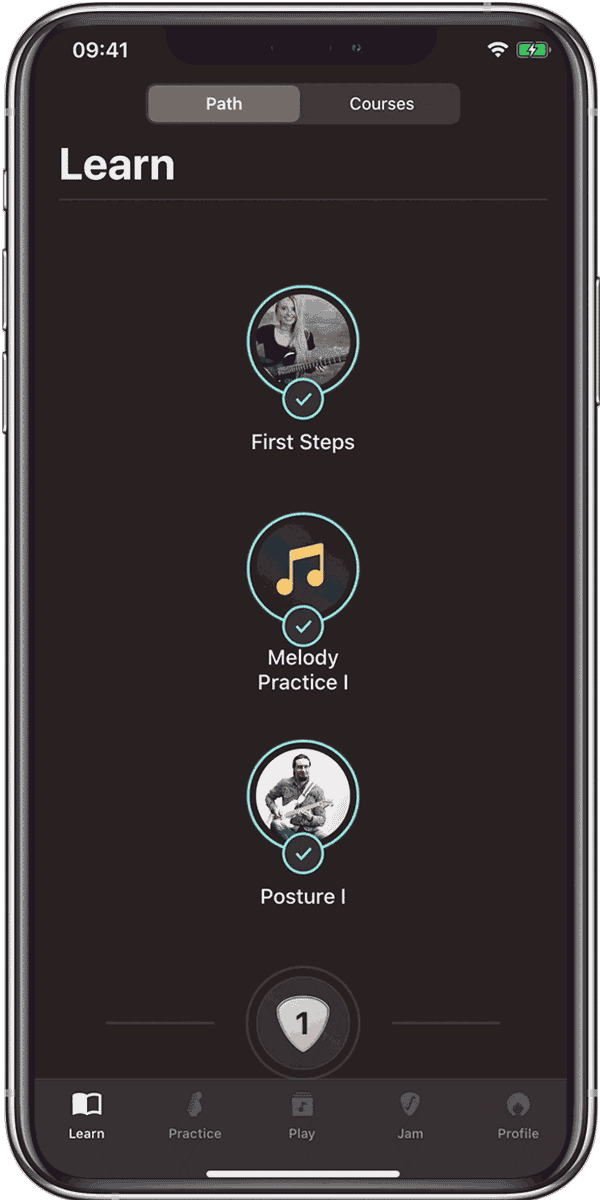 Progressing on Your Journey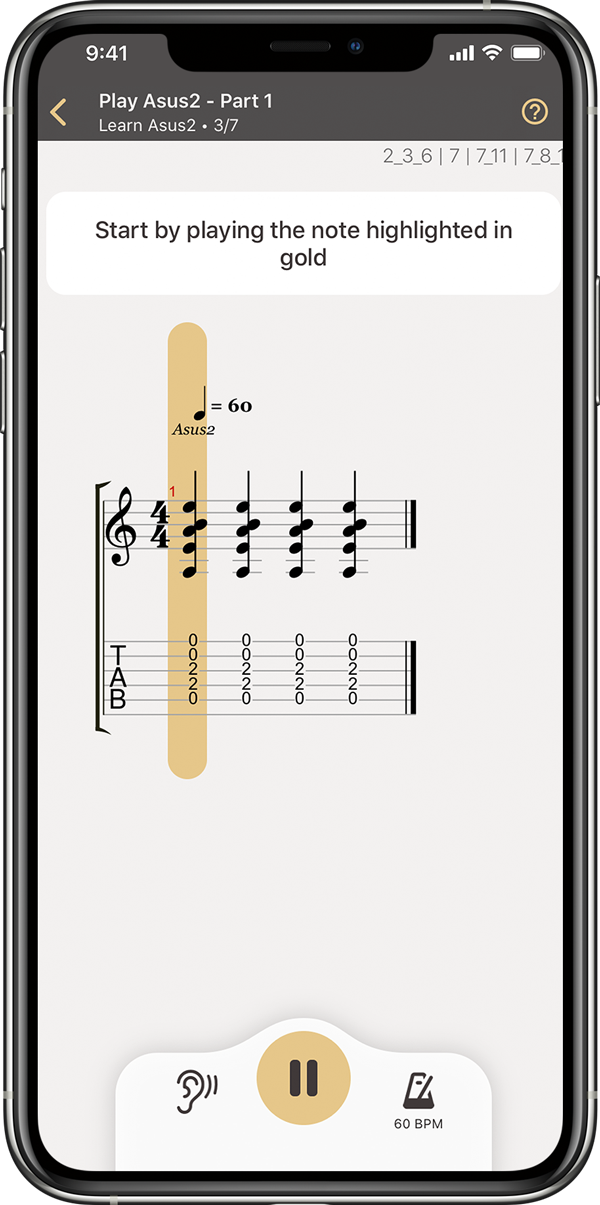 In each Learn unit, there are different lessons including a mixture of video tasks and exercises. This variety of video learning and actual playing exercises with real-time-feedback combines the best of digital learning. Therefore, we are not only mimicking the benefits of a real classroom setting but also enhancing it with immediate feedback that is available at any time and anywhere. Oh, and the exciting part is that we make sure that you not only get to successfully learn guitar, but also do it in a fun and interactive way by learning riffs and melodies from the very first lesson!
How Does This Work?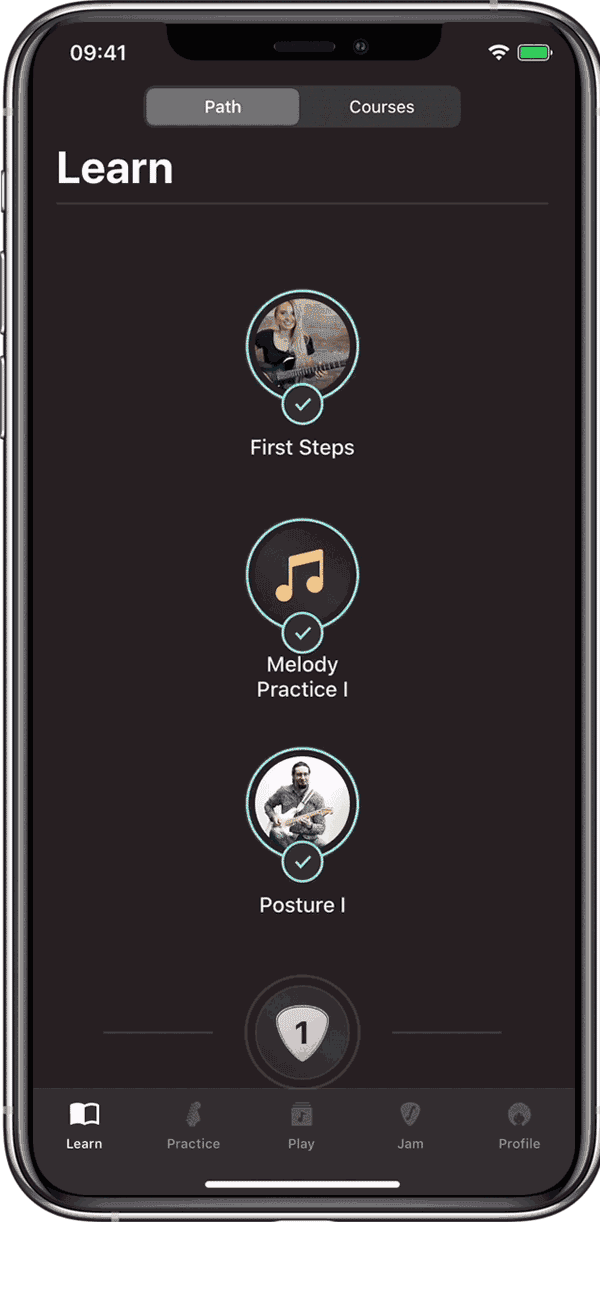 You will start at the top of the path and then move down as you go. Our path is designed to offer the best sequence of learning and practicing for beginners. So it doesn't matter whether you play acoustic or electric, or if you are interested in Rock, Pop, Blues, Jazz or Metal: we will make sure that you learn the basics so you can progress on your guitar journey in whichever direction you want.
Our path is carefully designed to move you closer to your guitar goal in the least amount of time. For that reason, we promise you one thing: Stick to the path and you will learn guitar.
Additional Courses for Advanced Players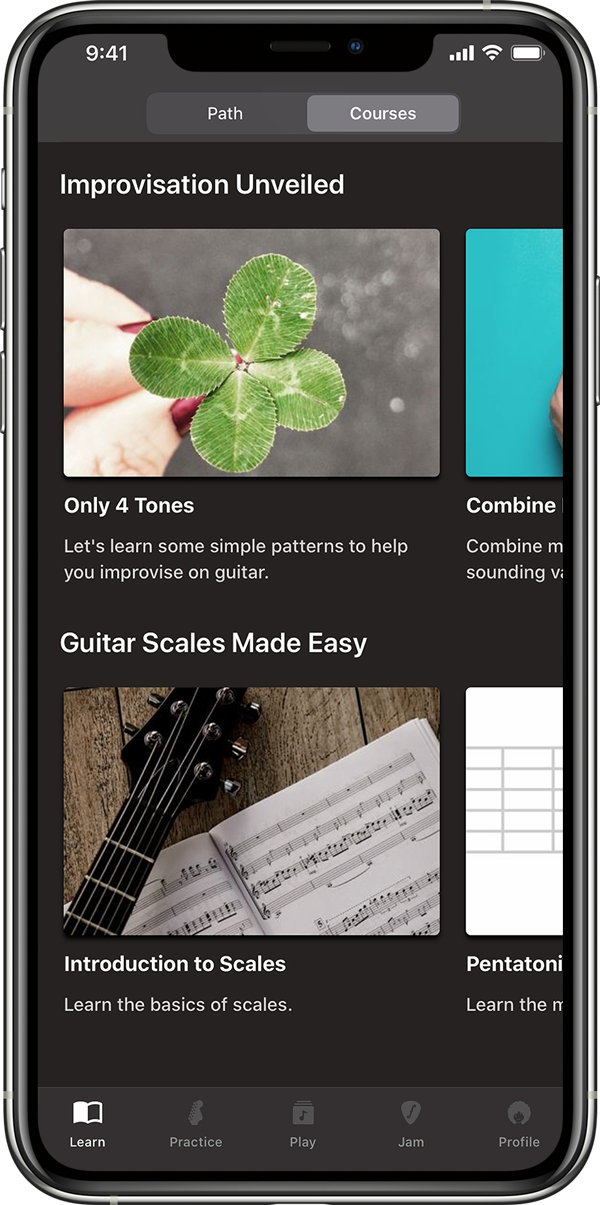 And for those intermediate and advanced players, we are going to offer signature courses to cover advanced skills and techniques! We are starting next month with a beginner's shred course with one of the most advanced guitarists, Bernth.
Always remember, learning guitar is not a matter of hidden talents. Everybody can learn it. So set realistic plans, start your journey with Fretello, and stick with it. We promise you that it will pay off when you realize the big steps you are taking in your guitar journey. Sign up now and start your guitar journey today!