We discovered Browne Amplification when one of our artists brought his new pedalboard to a session. The tone he obtained was so uniquely good that we had to pay closer attention to his setup. We saw some of the common boutique pedals from Jackson Audio, Barber, and Strymon, but the heart and soul of his new board was the Protein drive from Browne Amplification.
We absolutely loved the sound of this particular dual overdrive pedal due to its creamy, harmonically rich content. That said, it keeps a clarity that most overdrive pedals lack. Even at a louder volume—and in a band setting—it retained its character. It definitely cuts!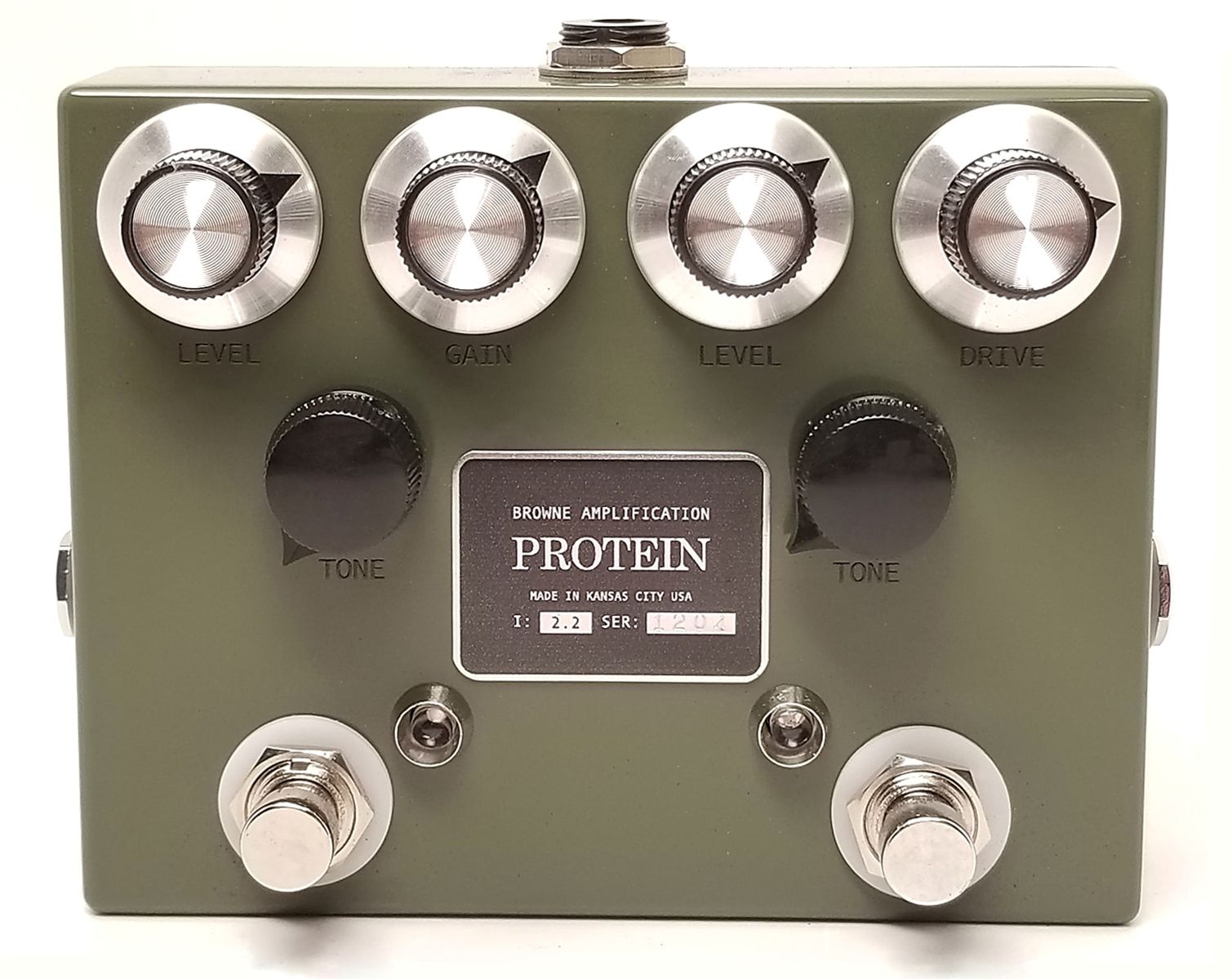 Our gear nerds at Fretello did some research on the Browne Amplification website and learned that the left side was a very familiar Bluesbreaker circuit. Many famous guitarists, such as Eric Clapton and John Mayer, use the Bluesbreaker sound for tasteful low to mid-gain drive sounds. The right side of the pedal is loosely based on an old Nobels ODR-1 circuit. This adds a mid to higher-gain option for players who are going through some powerful riffs or dialing in a killer lead tone.
But as we learned, the real magic happens when you stack both channels. All we can say is: BIG tone through and through, yet the clarity of the tone remains. This essentially 3-channel pedal will give you beautiful, on-the-edge-of-breakup tones to heavy rock tones.
We were told that the Protein drive is a pedal for the working guitarist because it gives you a consistent tone no matter what you plug into.
We tested the pedal on two amps that are voiced completely differently. The first amp was a Tyler JT22, which has a mid-scooped black face voicing, and amp #2 was a Supro Statesman, which is a classic rock amp with lots of mid-range. Running the Protein through both amps, we won't say it sounded exactly the same but it consistently sounded fantastic. We also tried it with different guitars loaded with single coils, P90s, and a humbucker, and the tone never got muddy or thin.
The Protein, though it's fairly new to the boutique pedal market, has certainly earned its reputation of being an all-time classic drive pedal. Used sale prices typically exceed the new retail prices due to limited supply and build times that are to be expected from a hand-built and hand-wired pedal.
Therefore, we are more than excited to partner with Browne Amplification in offering two of their finest creations—the Protein drive and the T4 Fuzz—to our Fretello community as this month's giveaway! For details on how to participate in the giveaway, please check out this link on Facebook and this one on Instagram.
One more thing, Dipswitch Demos had some high praise for both of these pedals, so don't forget to watch these videos to learn more about them.