It's a new month and we've got plenty of Fretello updates to announce! Let's start things off with July's new song releases, then we'll bring you up to speed on a new collaboration with Sophie Lloyd that we've been excited to get out of the gate, plus a whole host of product updates—including our new Mac app.
July's Song Releases
This month brings 4 new songs to the Fretello app. Now jump in and start learning some new songs!
Sophie Lloyd
As we mentioned earlier, we're thrilled to be collaborating with London native Sophie Lloyd, whose innovative new sound is bringing a fresh dose of energy to the world of rock. We've put an awesome playthrough of her song—After Insanity—up on our YouTube channel, and it's also learnable in the app. Sophie will be providing new courses and songs every month, so there's a lot to look forward to!
Revamped Just For You
Fretello keeps getting better. From an improved practice experience to our highly accurate tuner, the list of product updates never stops growing. Let's run through these July's updates in sections: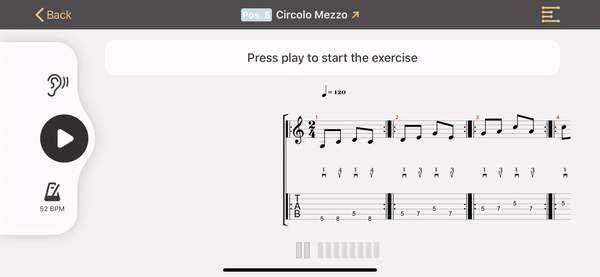 Improved Practice Experience – Get better guidance and more accurate feedback with our revamped practice experience so that you can progress even faster. Listen to exercises before you practice to get the confidence to play them right your first time through. The new experience is already available for macOS and Android and will be rolled out to iPhones within the next few days.
Tuner – Our high-precision tuner allows you to tune your guitar every time you practice. Why does that matter? Practicing with a tuned instrument not only gives you better feedback but an improved sense of hearing as well. Get tuning!
Mac Update
The new Fretello Mac App takes all the best parts of our iOS app and optimizes them for a bigger screen, adding various enhancements and new features with an improved user experience! The best part? If you already have an existing subscription, moving over to the new app should be no problem at all—your progress will automatically sync with the new Mac App.
Just remove the existing version of the Fretello Mac App and download the new version here.
While your progress and existing subscription will be brought over to the new Mac App, updating or renewing that subscription will no longer be possible so you'll have to start a new one to continue using the app. Enjoy!